SUMMERTIME IN THE Six is usually synonymous with food festivals galore. From longstanding stalwarts like Taste of the Danforth to newbies like Taco Fest and Pizza Fest, we had it all. And now we have nothing. If like us, you're looking to fill the street food-shaped hole in your heart, Toronto's markets are here to offer us solace in the form of a variety of tasty bites dished out from stalls, trucks and even shipping containers.
Sure, we are thrilled to have the best patios in Toronto open again for a nice sit-down meal with friends and family. And there are plenty of restaurants offering picnics to-go for a beautiful al fresco afternoon in the nearest park. But something about sidling up to a sea of various food vendors and taking your pick, just hits different. And these Toronto food markets are here to deliver just that.
From loaded fried chicken sandwiches dripping with toppings to decadent desserts piled high with scoops of ice cream, these Toronto food markets have got your fill of delectable dishes and then some. Market vendors range in all styles of cuisine, so you can take your taste buds on a trip around the world in one afternoon. The cherry on top? Some of these Toronto markets are even licensed so you can sip on a cold bevvy too. They may not be food festivals, but these Toronto markets are the next best thing — maybe even better.
1. Street Eats Market
MULTIPLE LOCATIONS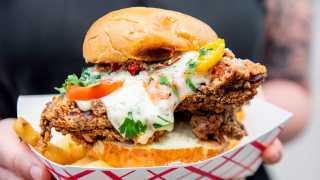 Hector Vasquez
Billed as the largest series of food truck parks in Canada, Street Eats has three different market locations across the GTA, each with their own variety of vendors, along with a few repeats. Tuck into loaded tacos from El Bosco; snack on the Food Dudes famous mac and cheese balls; get the gooiest, cheesiest sandwich from Meltwich; and top it all off with an epic cheesecake and ice cream in a jar from Cheesecake in tha 6ix. Until September, the Scarborough Town Centre location will also see new vendors arrive every Friday, Saturday and Sunday evening for the Eats Night Market that runs until midnight.
2. Stackt Market
28 BATHURST ST.
Opened just two years ago, this massive shipping container market at Bathurst and Front Street is a trendy spot for local shopping and dining, with events and art exhibits also thrown into the mix. Onsite, Belgian Moon Brewery is the first of its kind. Their small batch brews rotate with the seasons and many of them can only be found at Stackt. Joybird is responsible for the food program with Taiwanese fried chicken and smash burgers. At the Pavilion, Momofuku serves up their beloved noodles, meanwhile the Terrace offers a long list of cocktails to sip on the lawn or under a cabana.
3. Market 707
707 DUNDAS ST. W.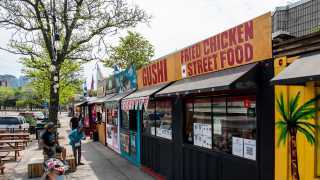 Hector Vasquez
Lining the south side of Dundas Street West, just east of Bathurst, salvaged shipping containers have been retrofitted to house vendors of all kinds. The colourful container market was established over a decade ago by Scadding Court Community Centre to help increase local employment and revitalize the area, and has since become a community hub for delicious international street food. Chef Harwash can be found here dishing up his famous Damascene fare like shawarma and soujok, meanwhile Ethio & Eri Café serves up authentic Ehtioian and Eritrean cuisine and Kanto by Tita Flips is known for having some of the best Filipino street food in the city.
4. Toronto Market Co.
ONLINE
This organizer of several different pop-up Toronto markets went virtual when the pandemic hit. Now, while we wait for the return of their in-person events, you can shop online from more than 100 different local businesses. Food offerings range from pantry staples and grocery goods to prepared foods and treats, along with meal kits from Toronto restaurants. Coffee and cold pressed juices are on offer and you'll find foodie items and gifts too.
5. World Food Market
335 YONGE ST.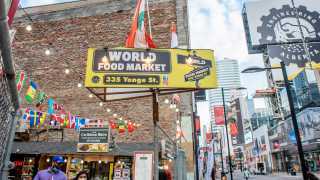 Hector Vasquez
Take your taste buds on a tour around the globe at the World Food Market. Just north of Dundas Square, this Toronto market is home to more than 18 different vendors offering cuisines that run the gamut. You'll find Mexican street snacks like elotes and seasoned mango on a stick from Fruta Libre; banh mi sandwiches and grilled seafood on a stick at Vietlicious; and slurpable noodles from Thindi Toronto.
6. Kensington Market
AUGUSTA AVE. & DUNDAS ST. W.
OK, OK, this is more of a whole neighbourhood than a Toronto market, but summertime definitely sees Kensington take on a marketplace vibe. The shops spill out onto the street, selling their eclectic wares off little tables, while pint-sized eateries dish out street food of all kinds. There's even a stand where you can get a freshly-hacked-open coconut to drink. Pair that with tacos from Seven Lives and sweet treats from Dipped Donuts and head to the nearby Bellevue Square Park to chow down.
7. St. Lawrence Market
93 FRONT ST. E.
Established more than 200 years ago, St. Lawrence is the OG Toronto market. Inside of the South Market building, over 120 vendors peddle food of all kinds, from specialty grocery items, meat and cheese to the best peameal bacon sandwich you'll ever have (from Carousel Bakery). You'll also want to try the lobster roll from Buster's Sea Cove and stop by Scheffler's Delicatessen. The North Market building is home to a Saturday Farmers' Market and a Sunday antique market.
8. One of a Kind
100 PRINCES' BLVD.
Occurring biannually in the spring and fall at the Enercare Centre, this Toronto market is all about one of a kind goods from small artisans. Discover items like beautiful handmade ceramics and dinnerware, elegantly carved wooden serving boards, blown glassware and all manner of specialty kitchenware. For ingestible delights, there are artisan chocolates and cookies, candied apples, spices, sauces and more.
9. Downsview Park Merchants Market
40 CARL HALL RD.
Loaded with trinkets and treasures of all kinds, the Downsview Park Merchants Market offers a sprawling 162,000 square feet of vendors selling various products and services. Spend the afternoon wading through the abundance of housewares and décor before rounding out your trip at the food court. Here, you'll find small independent stalls serving up bites from a myriad of different cuisines. They also host a 10,000-sqaure foot farmers' market on Saturdays and Sundays.